California is home to an incredible amount of great restaurants ...If you love mexican food, head to Lula Cocina Mexicana. This past July (2016) the restaurant celebrated twenty five years. Although Geraldine Gilliland, owner of Lula Cocina Mexicana, is originally from Belfast, Northern Ireland, she was always intrigued with Mexican cuisine. "One day, as I was casually flipping through the latest edition of Bon Appétit magazine, I stumbled upon an article that profiled the best female Mexican chefs of the time, including Lula Bertran, explained Gilliland. "Now I've always had a lot of moxie, so I just went ahead and called up the editor and asked her which of these chefs she would recommend to teach me true Mexican cooking. Without missing a beat, she told me to call Lula. The next thing I knew, I was standing in a farmers market in Mexico City with Lula herself, picking out produce, touring the city, and learning to cook in her home!"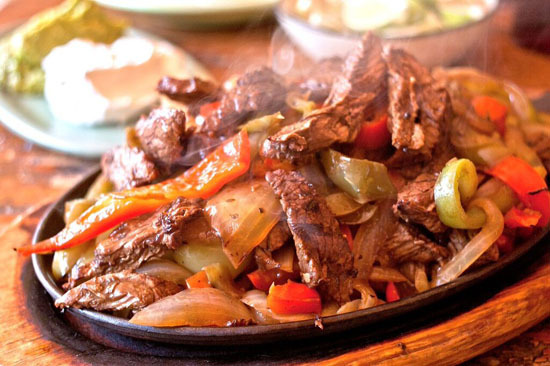 Photo courtesy of Lula Cocina Mexicana, Beef Fajitas
It was during this first trip to Mexico City that Gilliland's vision for the restaurant first began to truly come alive. "I had fallen madly in love with the sights, sounds, and colors of Mexican culture and knew I would incorporate that beautiful levity into the restaurant, mimicking the designs of my favorite architects Luis Barragon & Ricardo Legoretta." Gilliland's husband, Theodore Lonsway, owned an antique store at the time. "Together, with our vision - and the help of a dear friend and famous local architect, Michael Bedner - we designed our dream restaurant, on a shoestring budget, of course!"
Some of its most popular dishes include Fajitas, Baja Fish Tacos, Shrimp Ceviche, Tiger Shrimp Tostada and lots more.
Outside of the restaurant business, Gilliland is passionate about the protection and rehabilitation of abused and abandoned animals; a cause for which she frequently hosts and produces charitable activities and events. In 2011, Gilliland launched Chiquita's Friends, a non-profit dedicated to this cause and in it's honor, all of the proceeds from this book will go towards the mission of helping abused and neglected dogs in the Los Angeles area. Find out more, on the nonprofit's website -
http://chiquitasfriends.org/
For additional info on Lula Cocina Mexicana, visit
http://lulacocinamexicana.com
Busy lives can create havoc on any relationship. Fortunately, my partner and I have found a simple and exciting way to cope with this challenge, and you can easily do the same. Setting aside a small amount of time to recharge and reconnect with one another has become a priority. Sometimes it's as simple as turning off your phones for a few hours and taking a walk around the block or a picnic on the beach. Taking this one step further, little excursions will do wonders.
Photo by Richard Bilow
Since I am a lover of wine (the designated drinker), and my partner is a lover of nature and photography (the designated driver), we agreed on a quick two day/one night trip up the coast. I happen to be a big fan of Inception Wines, so I reached out to founder/owner Jonathan Hirsh, who partnered up with a local winery (Terravant), just off the 101 in Buelton, in the Central coast of California.
Big things are happening for Inception...it has been picked up by Southern Wines and Spirits of California and Delta Air Lines will be serving its Central Coast Pinot Noir in their Delta One (First Class) service, starting in mid-September as a global placement.
Pho
to by Richard Bilow, Joe Padilla (left) and Jonathan Hirsch (right)
Hirsch and Joe Padilla (VP of sales at Terravant), have teamed up for the past couple of years and have a brotherly admiration for one another. It was interesting to watch as they joked back and forth while taking us on a tour of the winery.
"Wine is a pure celebration of life and nature." said Hirsch. "Terravant was the final catalyst for me to begin Inception. It is clearly one of the most state of the art wine making facilities in California -- I felt that this was the right place for me the moment I walked in. Joe has been a great partner to work with. The needs of a small and growing brand require great patience from a great leader and Joe is certainly that."
https://www.inceptionwines.com/
We sat down to an amazing meal with Hirsch and Padillo at Terravant Winery and Restaurant, with a view of the facinating production facility. Created in 2008, the restaurant offers a wine wall featuring over fifty wines provided by twenty plus wineries. It was like being a kid in a candy store – so many delicious wines to choose from. The cuisine was excellent as well.
Photo by Richard Bilow
We previewed a wine currently being created right there at Terravant. It was a smooth lovely red blend paired perfectly with our appetizers. We started off with a Burrata grape appetizer (Crostini with thyme-roasted grapes, local honey), - delicious. We also enjoyed a beet salad (Avocado, pistachio, goat cheese, mixed greens, citrus vinaigrette). Who would think a beet salad could taste this good? – this dish definitely changed my mind. We continued our feast with additional appetizers...Tuna Tartare (Chipotle aioli, mango, avocado, toasted sesame seeds and cucumber) along with dates wrapped with bacon...both incredible. Of course, we enjoyed several tastes of Inception's Pinot Noir. My favorite was a tantalizing 2012 Santa Barbara County Pinot Noir, which was a perfect pairing with the farmer's market pizza. This popular menu item changes daily (ours featured bacon and fresh veggies) and a prosciutto and pear pizza (Seasonal pear, Berkshire heirloom prosciutto, truffle oil, Gorgonzola, and balsamic reduction). The meal was exquisite. If you find yourself in this area – be sure to stop for lunch or dinner here.
http://www.terravant.com/
Moving on from our great experience at Terravant, we headed north towards Los Olivos for a whole different wine tasting experience. The drive from Buellton to Los Olivos takes one through the town of Solvang, a charming Pennsylvania Dutch-inspired town which buzzes with the spirit of Christmas (my most favorite holiday) all year long. This time around, Solvang was not on our agenda, so we only stopped for a quick look at the quaint shops filled with trinkets and gifts and got right back on the road.
A
bout 15 minutes past Solvang, we arrived at our next detination, Los Olivos. Our brief stop in Solvang set us back a little, but we managed to stop at a few more wineries later in the day. One really fun one was Kaena, run by Mikael Sigouin, or as he is affectionately called by the locals - the Grenache King. He offered us a full range of wines.
Photo by Kathy Leonardo, Mikael Sigouin, the Grenache King
Speaking to an entire room of wine lovers, he recounted the story of why his love of wine and his wife, Sally were parallel. "Grenache is very feminine varietal in many ways, said Sigouin. "It's a very difficult grape to farm and produce at a high quality level, so it takes amazing patience in the vineyard and winery, many times walking on eggshells to get it just right. So Grenache like a woman needs to be treated with ultimate respect. If you have the patience to do it all right, she will be your ultimate reward.
Like many small wineries in the area, Kaena mostly sources from Tierra Alta Vineyard and Larner Vineyard in the Ballard Canyon AVA. Created in 2001, the brand was named Kaena (which is a shortened version of the owner's given name) a strapping handsome warm-hearted Hawaiin raised in Oahu who has an affinity to Grenache. "I guess what sets me apart from large scale wineries is that I'm a one-man show, doing it all when it comes to production," explained Kaena. "Every decision was made by me throughout the process from vineyard to bottle and beyond. I feel very torn apart at times but I'm a control freak when it comes to my wines and brand."
P
hoto by Kathy Leonardo, Jason Villalobos (left) and the staff at Byron Wines
Next, we hit Byron Wines, where I met Jason Villalobos who served up several delicious reds. At this point in the day, I had to prioritize my wine choices. I enjoyed several Pinot Noirs. My favorite was the 2012 pinot noir Drizzel Barrel (the most concentrated juice of the barrel) which has an intense layered flavor of blackberries with a smoky savory finish.
By this time my taste buds were a bit clouded, so we decded to call it a day and headed further north.
Phot
o by Richard Bilow, the Baywood Inn Bed and Breakfast
We drove through to Los Osos and checked into the
Baywood Inn Bed and Breakfast
. It was a breathtaking respite...armed with some added amenities that one does not always expect...a fireplace, coffee, granola bars, microwave popcorn, Neutrogena face soap, etc. We both slept like babies and then enjoyed a Mexican style breakfast before heading out to our next adventure - this day devoted to my partner's love of nature and photography.
Although the morning was shrouded with a thick layer of coastal fog, we decided to take a ride to Morrow bay in search of the legendary otters who put on a show each day.
Photo by Richard Bilow, Morrow Bay
Birdwatching was an added benefit to our outing and we tested our rock balancing skills as we hopped from rock to rock crouching and scrambling to catch a better view of the adorable otters. We stopped at the waterfront and picked up some salt water toffee and caramel popcorn. As we headed towards Los Olivos we noticed the sun decided to make an appearance - perfect for my partner's photography.
The sun lit up the local wildflowers creating a luminous iridescent yellow....be sure to save time (from 2-3 pm) to take advantage of a great photo op. We lingered in Los Osos as we continued to stop time and time again to take photos heading south to Shell Beach. Shell beach is easily accessible from the 101. Finding coastal access points allowed for a spontaneous picnic in a romantic setting. The coastal views were mesmerizing. Old shell beach offered even more impressive water views, although we were warned by a local about the eroding cliff side. The photo ops continued here with sweeping coastal views.
Photo by Richard Bilow
Just a short hour later we were compelled to linger back to our busy chaotic lives in Los Angeles feeling relaxed, recharged and ready to take on the world. Get out there and take advantage of a weekend away...enjoy the weather, the wine, the cuisine and more of the Central coast...just a couple of hours away from LA and definitely worth it.
Catalina has long been a great summer vacation destination for many Los Angeles residents and tourists alike.
See Image: courtesy of LA Art Party
A one - two night stay can work wonders on eradicating the stress of one's busy life, so I was quick to say yes when my boyfriend suggested we take advantage of a rare leap year special offered by the Hermosa Hotel.
A one night stay was $29 plus $29 each way per person on the Catalina Express, a fairly large fast-moving boat which transfers visitors from one of three ports near Los Angeles to the island. My boyfriend and I left out of Long Beach for our quick getaway to the Catalina, saving over $100 on our great escape. When planning your trip, do forget to factor in the $17 per day cost of parking at the boat terminal.
Approximately 2 hours after leaving Long Beach we arrived at the Hermosa Hotel. At first glance the room was simple, clean, but small. Next we noticed the bathroom was situated between two rooms. It was a shared bathroom.
Little did we know we would soon be sharing something else. Our room was located in the front of the building on a busy street. Just outside the room was a shared balcony, accessible to all of the Hermosa hotel guests. It turns out that the Hermosa commonly hosts large groups of scuba divers, so the shared balcony is great for those groups.
Since we had just gotten off of the boat to Catalina along with several other hotel guests, we were immediately taken aback by seeing two to four people right outside our window. They too had just arrived and were checking out the hotel as well as its occupants. That's when it became apparent we would soon be putting on a show. The vertical blinds were missing sections which would ultimately compromise our privacy. We came to understand the value of the shared balcony for large groups, but the broken blinds could easily have been replaced with drapes.
Basic
ally since several of the individual blind slats were missing, any one standing on the porch (which remember was open to all hotel guests) could peer into the window and enjoy the show. I looked at my boyfriend and said "well, if you're an exhibitionist, this is the room for you." Fortunately, my boyfriend is quite handy and was able to rig up a home made curtain using the bedspread.
The employees running the Hermosa were quite pleasant but had no idea how to fix the situation, other than posting a "wet paint" sign on the door of the balcony to deter entrance. Be aware, we did not make a big stink of it with the front desk ( so there is no way to tell what would have happened if we did). The staff was kind enough to recommend where we could find an inexpensive cup of coffee as well as directing us to other points of interest. They also held our bags after we checked out, so we could explore the island.
Again the staff was great and I suspect other rooms (with a private bathroom and working blinds or at least rooms with curtains) would allow for a more pleasant stay. We were told cottages were available at the same price for the leap year special but on a first come basis.
If you are bothered by street noise this also may not be the hotel for you (unless a room situated in the back of the building was requested). There are more expensive hotels located off the busy streets as options for those who need a quite setting. I personally had no problem with being close to the busy street (unlike my travel companion) but I am originally from New York City and feel at home with the lively city sounds.
Se
e Image: By Richard Bilow
So if booking a room at the Hermosa Hotel, they do offer affordable specials...just remember to ask questions. There are great deals to be had in the winter season. Just make sure you don't book room # 15 unless you're into that sort of thing!
Hermosa Hotel, 131 Metropole Street, Avalon CA 90704, 310-510-1010,
http://www.hermosahotel.com
Born and raised in New York City and spent most of my life being spoiled by amazing cuisine....of course New York classics like pizza and bagels are foods I was quite wary of when I first arrived in LA about fifteen years ago...(yes both have improved...but my goodness, it took a long time).
A
s a food writer, I have tasted my share of pizza. I recently had the good fortune to enjoy a meal at the local eatery, Southend on Abbot Kinney in Venice. We were greeted by the gregarious owner and chef, a Mario Vollera and escorted to our seats.
The dark wine bar has a cozy romantic feel. We sat at the bar and immediately started sampling wines. Vollera has been a sommelier since 2011. He explained that he collaborated with a vineyard in Chili to create his own wine with / featuring the restaurant's namesake. It had a bold yet fruity flavor a perfect red to pair with a delicious pizza.
Born in Rome, Vollera started cooking when he was just sixteen. He was inspired by his mother's eggplant and her memorable calzones with fresh spinach. He arrived in Los Angeles in 2008 and started working as a Senior Chef for MidiCi located in the San Fernando Valley. He had always been attracted to Venice Beach, so in 2013 it was only natural that he should open his own restaurant at the artistic seaside mecca with pizza as its main staple.
"Venice
is the best place on earth...the culture, the art, the beach, the people the music...all great for me," said Vollera. "Just walking on the boardwalk on Sunday afternoon for me is magic."
We started the meal with an Onion & Brie tarte (caramelized onion, brie, seasonal fruit, aceto balsamico). It was delicate, with a delicious ink squid crust. Next Vollera brought out a tortellini with cheese and prosciutto. A flavorful dish...this was a true comfort food. We tried not to finish it, as to save room for the pizza, which soon appeared. We were presented with two incredible pizza pies. Going back and forth between them, I tried to make a judgment about which would win my taste buds over...a hard decision.
See
image: The Vanguard
The vanguard featured organic mushrooms, fontina chees, fresno chilies, fiore sardo, and fine herbs. It was delicious with a perfect crust...doughy yet crisp.
The 1905 pie offered a bold flavor with heritage pork salciccia, crushed roma tomatoes, kalamata olives, fresh mozzarella, red onion, and marjoram. The latter was the winner in my eyes due to the intense flavors, but they were well matched.
Vollera said the most popular pizza and his personal favorite was the Abbot Kinney, (crushed Roma tomatoes, burrata cheese, basil pesto, Monini EVOO)
See image: The 1905
Be sure to pop into this charming restaurant. If you love pizza and good wine, there is no way you can go wrong. Great prices too.
Southend is located at 2805 Abbot Kinney Blvd., Venice CA 90291 (the entrance is on Washington Blvd. behind the gas station).
Dinner hours are 4:00pm -10:00pm Mondays through Thursdays and 4:30pm -11:00pm on Weekends (Fridays – Sundays). There is also a happy hour available Mondays - Thursdays from 4:30pm-6:00pm and Fridays - Sundays, from 4:30 – 6:00pm.
424-2284736;
http://www.southendla.com