Kathy Leonardo Photo:Gregory Dahl
LA Art Party Newsletter

LAArtParty is an arts and entertainment website. Established in 2010, it is an online go-to guide for what's happening in and beyond the LA area - this includes dining, travel and more.

Founded by journalist, and "Blues Mama" Kathy Leonardo (a longtime performer), the campy site has an unusual slant which will keep you entertained. Leonardo has been writing for the past 15 years about various subjects for the Huffington Post, THRIVE GLOBAL, LA Weekly, etc.

Each month the LAArtParty staff, led by Kathy Leonardo decides which events will be featured. Posted at noon on the Thursday prior to the last week of the month, LAArtParty.com features the Top Ten Art Parties, plus other fun events each month. VIP subscribers find out ONE week prior to the public and receive discounts and invites to VIP parties throughout the year.

See Contact Page to find out how to become a VIP subscriber so you don't miss any more great ART Parties!! See Contact/Rates Page to find out how submit and promote your own events!
Former Mayor Villaraigosa, Levitated Mass LACMA
Mayor Garcetti
Pulitzer Prize Winning Food Critic, Jonathan Gold
RETNA
Shepard Fairey
Bernie Taupin
Actor, Martin Mull
Herb Alpert
Graham Nash
Ed Moses


Billy Al Bengston

Larry Bell


Nate Berkus
Shag
John Van Hamersveld
Andy Moses
Peter Alexander
Attaway
David Trulli
Ellwood T. Risk
Stuart Kusher
Brooke Harker
Sona Mirzaei
Jules Muck
LA Art Show


On site with LA Art Party's Video team
California is home to an incredible amount of great restaurants ...If you love mexican food, head to Lula Cocina Mexicana. This past July (2016) the restaurant celebrated twenty five years. Although Geraldine Gilliland, owner of Lula Cocina Mexicana, is originally from Belfast, Northern Ireland, she was always intrigued with Mexican cuisine. "One day, as I was casually flipping through the latest edition of Bon Appétit magazine, I stumbled upon an article that profiled the best female Mexican chefs of the time, including Lula Bertran, explained Gilliland. "Now I've always had a lot of moxie, so I just went ahead and called up the editor and asked her which of these chefs she would recommend to teach me true Mexican cooking. Without missing a beat, she told me to call Lula. The next thing I knew, I was standing in a farmers market in Mexico City with Lula herself, picking out produce, touring the city, and learning to cook in her home!"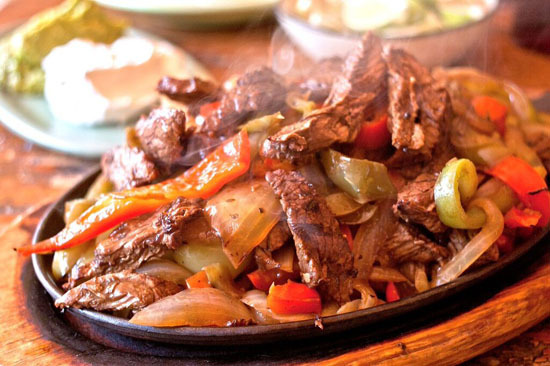 Photo courtesy of Lula Cocina Mexicana, Beef Fajitas
It was during this first trip to Mexico City that Gilliland's vision for the restaurant first began to truly come alive. "I had fallen madly in love with the sights, sounds, and colors of Mexican culture and knew I would incorporate that beautiful levity into the restaurant, mimicking the designs of my favorite architects Luis Barragon & Ricardo Legoretta." Gilliland's husband, Theodore Lonsway, owned an antique store at the time. "Together, with our vision - and the help of a dear friend and famous local architect, Michael Bedner - we designed our dream restaurant, on a shoestring budget, of course!"
Some of its most popular dishes include Fajitas, Baja Fish Tacos, Shrimp Ceviche, Tiger Shrimp Tostada and lots more.
Outside of the restaurant business, Gilliland is passionate about the protection and rehabilitation of abused and abandoned animals; a cause for which she frequently hosts and produces charitable activities and events. In 2011, Gilliland launched Chiquita's Friends, a non-profit dedicated to this cause and in it's honor, all of the proceeds from this book will go towards the mission of helping abused and neglected dogs in the Los Angeles area. Find out more, on the nonprofit's website -
http://chiquitasfriends.org/
For additional info on Lula Cocina Mexicana, visit
http://lulacocinamexicana.com