Our day began on the field of the Historic Pasadena Rose Bowl on May 7th for the 2nd Annual Masters of Taste, a luxury food and beverage festival.
Photo by Richard Bilow
It was a sunny day at first, but then the clouds rolled in, the sky grew dark, and suddenly heavy rain, thunderstorms and lightening ensued! Luckily I had my umbrella so it barely put a damper on our afternoon. Then just as quickly as the rains came, the sky cleared and the sun was out once again. On this interesting afternoon, to say the least, from 3 PM to 7 PM, we sampled and enjoyed some of LA's finest fare from 40+ restaurants, and 25+ craft beer, cocktail bars, wineries, and breweries as unlimited tastings were served to all guests. Proceeds to benefit Union Station Homeless Services, an organization committed to helping homeless men, women and children rebuild their lives.
Here are some highlights from our favorite culinary offerings. Our first taste of the day was a flavorful and tender steak served with fresh basil and delicate dressing from the Bacchus Kitchen of Pasadena.
Cuisine provided by Bacchus Kitchen;
Photo by Kathy Leonardo
We also enjoyed a glass of the 2013 Cabernet Sauvignon Gold Medal Winner from Vine Mark Cellars which was delicious and well balanced with flavors of rich blackberry and currant. The crab roll with dill from the Venice Whaler was delicious. We paired it with the 2016 Sauvignon Blanc from Robert Hall of Paso Robles. It was refreshingly dry and medium-bodied with a rich crisp acidity. Also went well with the spicy Ahi tuna mixed with scallions, sesame seeds and spicy sauce from Hoke Poke of downtown Los Angeles, another favorite. Next the tomato soup topped with creme fraiche from Celestino of Pasadena was light, yet had intense tomato flavor. The cold summer squash soup from Mexikosher of Los Angeles, was sweet, yet spicy with jalapeños; a crowd favorite. Mexican? Kosher? it works!
Cusiine provided by
Hyperion Public; Photo by Richard Bilow;

The Asian steak lettuce cups with caramel glaze, bacon coleslaw, pickled carrots, cilantro and a little gem lettuce cup were very delicious from Hyperion Public of Silverlake and Studio City. The Korean inspired fried chicken wings topped with sesame seeds from Belly Bombs of Artesia were sweet and spicy and full of flavor! The beef carpaccio with tonnato fennel tops and blossoms were yummy from Louise's which has three locations: Santa Monica, West LA and Larchmont Village. Another stand out was the Soupe de petit pois called Spring - English pea soup with mint and pea tendrils - tasted exactly like its name! From Church and Sate of downtown Los Angeles.
And now for some amazing desserts: Sprinkles cupcakes of Beverly Hills were delicious - I couldn't choose between the red velvet or the dark chocolate so I ate them both! The bacon doughnuts from Cafe Dulce of Little Tokyo in downtown Los Angeles and also Alameda Street - yum!
Bacon Dougnuts by Cae Dulce; photo by Kathy Leonardo
And Helados Pops Icecream of San Fernando came in unusual and exotic flavors like Horchata and Tamarindo - cool and refreshing! A great way to end an awesome afternoon...and not a cloud in the sky. Be sure to check the website so you don't miss next year's event.
https://mastersoftastela.com/
On July 2,
Wescom Credit Union
presented the
2017 Culver City Centennial Westside Food & Wine Festival
at the
Courtyard by Marriott Los Angeles Westside
in Culver City. Wescom Credit Union coordinated the event with
Todd Elliot Entertainment and Event Planning
. It was a lovely venue - featuring both inside and outside locations with live music, a strolling magician, and delicious food from a variety of restaurants. The event benefitted two important nonprofits - Culver City Council
PTA's Backpacks for Kids Program
and
Culver Palms Meals on Wheels
.
As a foodie, I usually scope out the room, strategize my route, and ready my taste buds with a glass of wine. I discovered Obvious Wines, a brand new company founded just two months ago and already selling in twenty stores.
From left to right:
Obvious Wines team, Marketing Manager Nasha Wallin (wife of Brice Baillie), Founder, Brice Baillie and Sales and Business Development Manager Anne Stark; photo courtesy of Obvious Wines
Owner Brice Baillie was pouring a delicious red blend made in Pasos Robles. Nº 01 Dark & Bold features 51% Cabernet Sauvignon and 49% Merlot. I love the full bodied, smooth, fruit forward flavor...delish! Marketing Manager Nasha Wallin (wife of Brice Baillie) was running an "expression board" and encouraged visitors to take a sip and leave a couple of words describing the wine. I thought it was a great idea.
Baillie grew up in Champagne, France, surrounded by wine lovers. Although he did not work in the industry in France, he always loved wine and after he moved to California, he soon realized he had a desire to help others love it too. Many of his friends said they found that selecting wines was an intimidating process. "That's how I came up with the idea," said Baillie. "Create a wine brand that helps educate those interested in learning more about wine in a simple, non-intimidating way with straight forward, yet valuable taste descriptions and characteristics." Visit the website to find out where to purchase Obvious Wines.
http://www.obviouswines.com
From left to right:
Panini Kabob Grill servers
Heidy Mejia and
Wendy Lizarraga dish up some delicious cuisine created by Chef Rogelio Quinones (in back); photo by Richard Bilow
Next I was greeted by Juliet Tran, Director of Marketing for Panini Kabob Grill, who told me about the two newest locations that recently open - Santa Monica and Playa Del Rey....with another one in Century City soon to open in a few weeks. She said she loved participating in these types of events. "It's so nice hearing people rave about the food if they've already been to our restaurant. If they haven't, it's fun seeing them try it for the first time and seeing that 'OMG, this is so good!' face."
I was right there with the latter group of people. The food was delicious, and such generous portions were given out. The chicken kabob with veggies was so tender. It was paired with tasty basmati rice, garbanzo hummus, tzatziki, and pita bread...I will definitely be visiting Panini Kabab Grill soon. The most recent to open in the Santa Monica location at 312 Wilshire Boulevard, Santa Monica, 90401...be sure to check the website for additional locations. Panini Kabab Grill recently had a name change from My Panini Café -visit
http://www.paninikabobgrill.com
/
We were invited to try a summer pasta dish by Emanuel Fiore, the chef and partner of Luciana Cucina Italiana, which opened a month ago. Offering a small menu featuring truffle inspired dishes, the restaurant and wine bar changes its menu every twenty days.
Summer pasta from Luciana Cucina Italiana
; photo by Richard Bilow
The orecchiette pasta was served with cherry organic tomatoes, baby carrots, broccoli, basil, and mint in a delicious yogurt dressing.
Luciana Cucina Italiana, 11800 Jefferson Blvd., Playa Vista, 90230;
https://www.facebook.com/MammaMiadaluciana/
Located in Culver City, Public School 310 (PS 310) made quite an impression on many of the attendees including myself. Randy Naegele, General Manager, was serving food along with Magdelena Sheskier (a hostess at the restaurant).
The Ahi Tuna Poke with sweet chili vinaigrette, passion fruit puree, and pickled cucumbers was so refreshing and delicately spiced...it was served with house cut taro chips.
Naegele said he enjoyed doing events. "We are in talks with our friends at the Culver City Exchange Club to sponsor the Beer Garden at the Centennial Celebration on September 16th at Veteran's Park."
From left to right:

General Manager

Randy Naegele,

with Hostess Magdelena Sheskier

; photo by Richard Bilow




Naegele said he was happy that everyone really enjoyed the Ahi. "A few people enjoyed it so much they came to the restaurant immediately following the event!! What a compliment!"
Public School 310, 9411 Culver Blvd., Culver City, CA 90232; 310.558.0414; http://www.psontap.com/
Near the close of the event, I struck up a conversation with the founder of teaRIOT, Laura Jakobsen. Her fresh juice infused tea was simply magnificent. I tried all the flavors - my favorite was Cider Kick.
teaRIOT began on May 22nd of 2016...starting in farmers' markets in the LA area. Now, a year later, the public can purchase it in Erewhon Markets and Whole Foods in Southern California, Arizona and Nevada.
http://tearit.com/
From left to right: teaRIOT founder, Laura Jakobsen and Danica Ancell (marketing);

photo by Richard Bilow
The event was fantastic. I especially enjoyed the cuisine from LA Gastronomy, Mayura Indian Restaurant, Ococoa Chocolates, Pitfire Pizza, just to name a few. Food festivals are always a great way to experience new tastes from a variety of restaurants I will gladly be visiting several of the restaurants in the near future.
L.A. Art Party sampled the food at the Willie Jane Restaurant at 1031 Abbot Kinney Blvd. in Venice at the invitation of owner Linda Ayles-Johnson, who told us she was making some changes to the menu. Willie Jane specializes in Southern soul food cooking.
We went at happy hour, and the joint was pretty jumping for a quiet Weds. afternoon. We sat out on the back patio where the decor is very lush and homey, and this seemed to be the location of choice for many happy hour attendees.
In
addition to well drinks, beer, and wine, each week Willie Jane mixologist concocts a special Drink of the Week. When we were there, it was the "Smith & Wesson", a very tasty blend of bourbon, vermouth, and cardamaro. Loved it.
Next we ordered a few happy hour dishes, the Deviled Eggs (with smoked bacon and trout roe), the Peel & Eat BBQ Spiced Shrimp, and the Just Baked Biscuit (with local honey and fresh butter). All three were amazing, though we feel the need to tell Chef Govind Armstrong that the Spiced Shrimp was some of the best we've ever tried.
Other Happy Hour (4-7 p.m.) delights include Smoked Chicken Wings with Spicy BBQ Aioli, Bar Burger, Iced Oysters, and Kale & Citrus Salad.
H
appy Hour prices are reasonable, mostly in the $7 to $10 range, with drinks (including the Drink of the Week) mostly $6.
For our main course, we tried the Pork Ribs, Black Eyed Pea & Charred Onion Salad and Mary's Fried Chicken & Waffle, which is the specialty of the house, along with a side of Fried Brussel Sprouts, Local Pears & Magic Peanuts.
Don't know what was magic about the peanuts or who Mary is, but it was all delicious -- especially the Fried Chicken & Waffle, which is prepared in some kind of spicy sauce and gives Roscoe's a run for its money.
O
ther main course selections include Shrimp & Grits, Blackened Salmon, Curried Oxtail, Crispy Pork Chop and Grilled Hanger Steak.
Prices range from $10 to $28, not bad for Abbot Kinney!
Willie Jane is open daily from 4 p.m. to midnight, and on Sat. and Sun., they have a special brunch from 11 a.m. to 2:30 p.m. which features bottomless mimosas for $15, in addition to food specials.
California is home to an incredible amount of great restaurants ...If you love mexican food, head to Lula Cocina Mexicana. This past July (2016) the restaurant celebrated twenty five years. Although Geraldine Gilliland, owner of Lula Cocina Mexicana, is originally from Belfast, Northern Ireland, she was always intrigued with Mexican cuisine. "One day, as I was casually flipping through the latest edition of Bon Appétit magazine, I stumbled upon an article that profiled the best female Mexican chefs of the time, including Lula Bertran, explained Gilliland. "Now I've always had a lot of moxie, so I just went ahead and called up the editor and asked her which of these chefs she would recommend to teach me true Mexican cooking. Without missing a beat, she told me to call Lula. The next thing I knew, I was standing in a farmers market in Mexico City with Lula herself, picking out produce, touring the city, and learning to cook in her home!"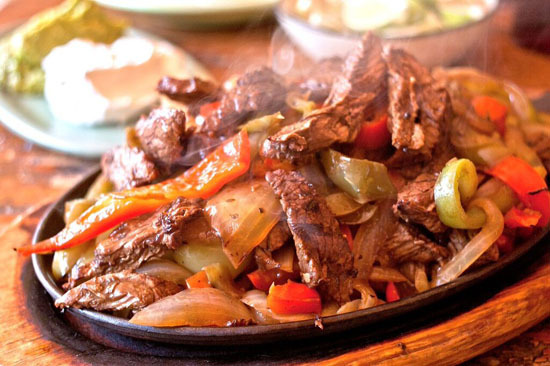 Photo courtesy of Lula Cocina Mexicana, Beef Fajitas
It was during this first trip to Mexico City that Gilliland's vision for the restaurant first began to truly come alive. "I had fallen madly in love with the sights, sounds, and colors of Mexican culture and knew I would incorporate that beautiful levity into the restaurant, mimicking the designs of my favorite architects Luis Barragon & Ricardo Legoretta." Gilliland's husband, Theodore Lonsway, owned an antique store at the time. "Together, with our vision - and the help of a dear friend and famous local architect, Michael Bedner - we designed our dream restaurant, on a shoestring budget, of course!"
Some of its most popular dishes include Fajitas, Baja Fish Tacos, Shrimp Ceviche, Tiger Shrimp Tostada and lots more.
Outside of the restaurant business, Gilliland is passionate about the protection and rehabilitation of abused and abandoned animals; a cause for which she frequently hosts and produces charitable activities and events. In 2011, Gilliland launched Chiquita's Friends, a non-profit dedicated to this cause and in it's honor, all of the proceeds from this book will go towards the mission of helping abused and neglected dogs in the Los Angeles area. Find out more, on the nonprofit's website -
http://chiquitasfriends.org/
For additional info on Lula Cocina Mexicana, visit
http://lulacocinamexicana.com